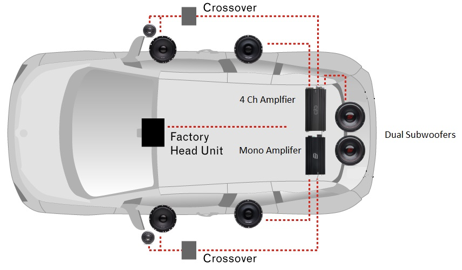 Option 1 – We can add an Amplifier and Speakers to your factory radio
If you're wanting keep your factory radio and all your controls, we would start off by adding a multichannel amplifier, a couple pairs of new speakers, and, most importantly, a signal processor. This will not only cleanup the signal from your factory radio, it will double the power. This will give you better sound control & better sound alignment with any type of music you listen to.
Option 2 – You can add some BASS to your factory radio
If you're happy with the sound from the factory speakers but want some real BASS, then adding an amplifier, a signal processor, and small a subwoofer with a custom enclosure is the perfect solution for any vehicle. We have been able to add amazing sound for those wanting to add some XTRA BASS to a stock audio system.
Option 3 – We can even add a full audio upgrade to your stock radio
If you're happy with the look and control of your factory radio, but want some super clean sound & amazing bass this package includes new speakers, tweeters, a subwoofer and enclosure, a 5-channel amplifier, and a digital signal converter for a perfect fit solution with bass control.