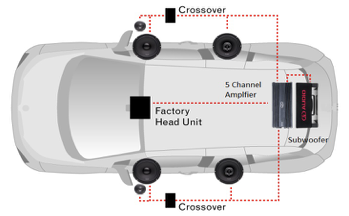 Option 1 – Clean, loud, and SQ BASS
This setup will impress some of you audiophiles. We include a pair of separates (which come with a crossover and tweeters), a pair of coaxial speakers, a 12″ subwoofer and subwoofer-specific enclosure, and a 5-channel amplifier that will make you feel like you're in a small concert venue with a really nice sound system!
Option 2 – Concert sound and with a magical experience
First, we will carefully map every curve and every surface of the interior of your vehicle to reflect the best sound and then delay the signal to each speaker with the help of a digital sound processor to match the distance to the driver position. This means you'll experience the same pure sound as if we placed you in the perfect position in your living room. This tricks your brain into thinking that the music is in front of you.
We include 2 amplifiers (one to run the interior stage speakers and the other for the deep bass subwoofer). We include 4 mid-bass drivers, 2 horns, and 2 subwoofers in a hand-built subwoofer enclosure. Last, we tune this setup with our digital sound tuning device to give you the ultimate sound experience, just like at a small concert venue. Your music will sound cleaner than ever, yet you'll have enough subwoofer power to make a punk at a stoplight speed off and get pulled over…